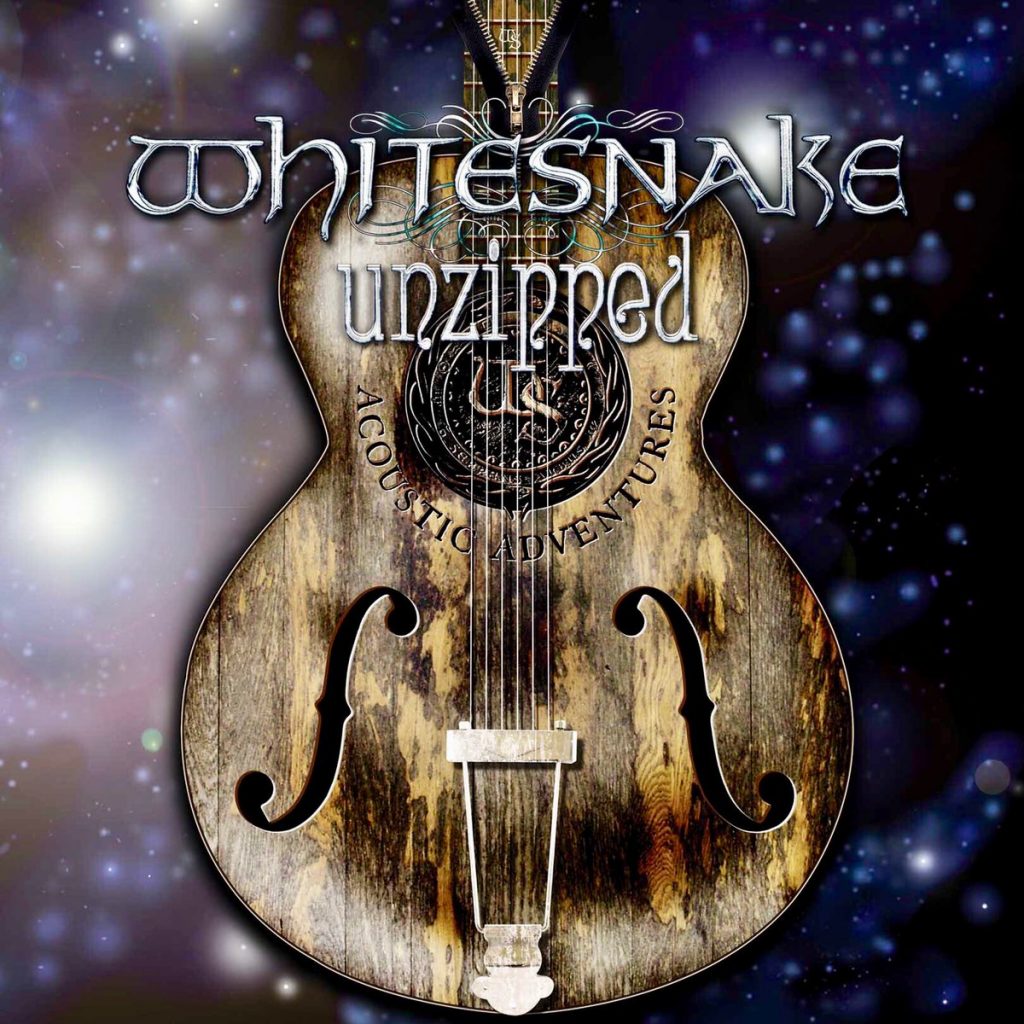 UNZIPPED Acoustic Adventures
Acoustic Tracks & Ballads
Includes Previously Unreleased Studio & Live Recordings
This album mixes rare and unreleased versions of songs like "Summer Rain" and "Forevermore" from the band's recent studio albums – Good To Be Bad (2008) and Forevermore(2011). Also included are songs like "Love Is Blind" from Coverdale's solo album, Into The Light (2000); and a previously unreleased song, "All The Time In The World." All 11 tracks are available on the single-CD, double-CD and double-LP versions of UNZIPPED.
UNZIPPED: SUPER DELUXE EDITION has even more of unreleased, unplugged recordings, including more performances from Coverdale's 1997 tour with Vandenberg, plus several later shows featuring Coverdale and guitarist Doug Aldrich. Plus, more than two dozen of Coverdale's unreleased, acoustic demos are also included in the collection.
For more details see our UNZIPPED Announcement Page.
Also Available on:
---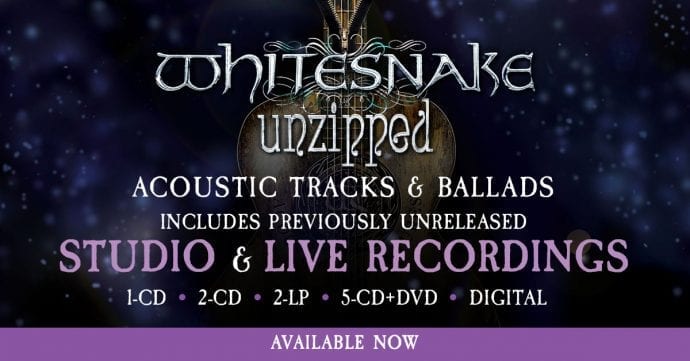 Track Listing:
UNZIPPED: SUPER DELUXE EDITION
Track Listing:
Disc One: Unzipped… In The Studio: The Love Songs
"Love Is Blind"
"One of These Days" *
"All The Time In The World" *
"Wherever You May Go"
"Easier Said than Done" *
"Fare Thee Well" *
"Summer Rain"
"Forevermore"
"'Till The End Of Time"
Bonus Tracks
"Wherever You May Go" (Instrumental) Strings only *
"Love Is Blind" (Instrumental) Strings only *
Disc Two: Starkers In Tokyo
"Sailing Ships"
"Too Many Tears"
"The Deeper The Love"
"Love Ain't No Stranger"
"Can't Go On"
"Give Me All Your Love"
"Don't Fade Away"
"Is This Love"
"Here I Go Again"
"Soldier Of Fortune"
Bonus Tracks
"Only My Soul" (Acapella) *
"Fool For Your Loving" (Excerpt) *
Disc Three: Snakeskin Boots: Starkers In Europe
Starkers In Warsaw (Poland, April 18, 1997)
Intro
"Sailing Ships"
"Too Many Tears"
"Here I Go Again"
Starkers In Stockholm (Sweden, December 2, 2006)
Intro
"Give Me All Your Love"
"Ain't Gonna Cry No More"
"Only My Soul" (Acapella)
"All I Want Is You"
"Dog"
"Here I Go Again"
Starkers In Cologne (Germany, November 24, 2006)
Intro
"Give Me All Your Love"
"Ain't Gonna Cry No More"
"All I Want Is You"
"Slow & Easy"
"Dog"
Starkers In Paris (France, November 30, 2006)
"Give Me All Your Love"
"Ain't Gonna Cry No More"
"Northwinds" (Acapella)
"All I Want Is You"
"Dog"
"Blindman" (Acapella)
"Here I Go Again"
Disc Four: More Starkers
Promo Tour Rehearsals (2005)
"If You Want Me" *
"Give Me All Your Love" *
"Slow & Easy" *
"All I Want Is You" *
"Judgement Day" *
"Ain't Gonna Cry No More" *
"Dog" *
Starkers In New York (New York City, April 10, 2008)
"Give Me All Of Your Love"
"Can You Hear The Wind Blow"
"All I Want All I Need"
"Lay Down Your Love"
"Fool For Your Loving"
"The Deeper The Love"
"Ain't No Love In The Heart Of The City"
"Here I Go Again"
"WSTV Jams" Excerpts (2012)
"Easier Said Than Done" (1:34)
"Fare Thee Well"
"Love Will Set You Free"
"Mistreated"
"Slide It In"
"'Till the End of Time
"Shake My Tree"
"Made In Japan" Soundcheck Versions (2011)
"Good To Be Bad"
"Tell Me How"
Disc Five: Up Close & Personal
"Wherever You May Go" (Demo Version) *
"Surrender" *
"Ain't No Doubt About My Girl" *
"Scat Man Blues" *
"Love's A Crazy Game" *
"I Will Love You" *
"Oh Baby You're The One" *
"So Long" (Acapella) *
"So Long" *
"It Would Be Nice" *
"Slide Thingy Blues" *
"Down To The River" *
"Feel Your Love Grow Stronger" *
"Blues Jam Riff" *
"Fun Lick Blues" *
"Don't Wanna Change The World" *
"It's So Hard" *
"River Song" (Early Version) *
"Let's Have A Drink Before I Go" *
"Can You Ever Forgive Me" *
"So Much To Live For" *
"Another Lick While The Missus Is Busy In The Kitchen" *
"Just The Two Of Us (Together You And I)" *
"Oh S___ Blues" (featuring Jessica) *
"Seasons" *
DVD
           Starkers In Tokyo (1997)
Sailing Ships
Too Many Tears
The Deeper The Love
Can't Go On
Is This Love
Give Me All Your Love
Here I Go Again
Soldier Of Fortune
Love Ain't No Stranger
Don't Fade Away
Only My Soul (Acapella)
12: Fool For Your Loving (excerpt)
Starkers In New York (2008)
"Give Me All Of Your Love"
"Can You Hear The Wind Blow"
"All I Want All I Need"
"Lay Down Your Love"
"Fool For Your Loving"
"The Deeper The Love"
"Ain't No Love In The Heart Of The City"
"Here I Go Again"
Starkers In Warsaw (Poland, April 18, 1997)
Intro
"Sailing Ships"
"Too Many Tears"
"Here I Go Again"
Starkers In Stockholm (Sweden, December 2, 2006)
Intro
"Give Me All Your Love
"Ain't Gonna Cry No More"
"Only My Soul" (Acapella)
"All I Want Is You"
"Dog"
"Here I Go Again"
Starkers In Cologne (Germany, November 24, 2006)
"Give Me All Your Love"
"Ain't Gonna Cry No More"
"All I Want Is You"
"Dog"
Starkers In Sofia (Bulgaria, November 24, 2015)
"Soldier Of Fortune"
Starkers In Paris 2 (France, June 4, 2009)
"Blindman"
Starkers In Wolverhampton (England, June 16, 2011)
"Fare Thee Well"
          Starkers In Glasgow (Scotland, June 15, 2011)*
"One Of These Days"
Bonus Features
One-on-One with David Coverdale and Adrian Vandenberg discussing "Starkers"
Poor Albert's Last: Photographic Slideshow (featuring audio from "Sailing Ships")
Purplesnake's "Forevermore" Video
"Love Is Blind" Music Video
* previously unreleased
Buy Now