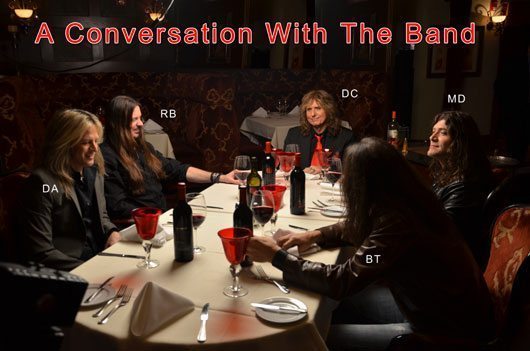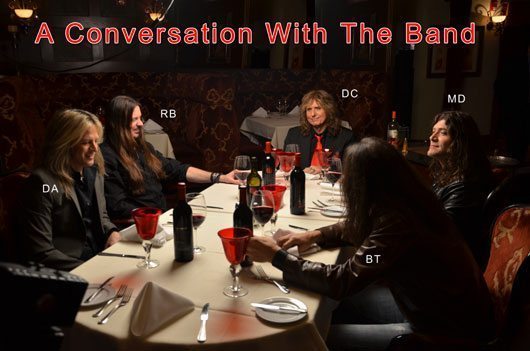 Doug Aldrich (DA) – Reb Beach (RB) – David Coverdale (DC) – Michael Devin (MD) – Briian Tichy (BT)
Q… Best wishes on the forthcoming release of Whitesnake's Eleventh Studio Album, 'FOREVERMORE' What was the inspiration behind the title?
DC… Thank you… yes… the eleventh… Amazing journey… 'Forevermore' is about Eternity… A love that lasts forever & destined to be relived & rekindled many life times over…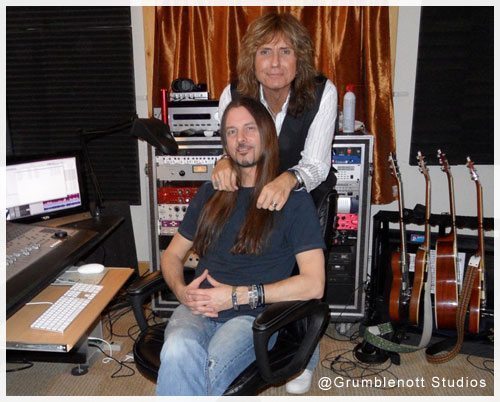 DA… I think the title of a record sets the tone for what the theme is. It's usually challenging to find the right one. Forevermore fits really well and encompasses a lot of what the record means to us. I was very happy when David said that was it.
Q… So, what can we expect from FOREVERMORE?? Talk us through the album, a little, please….
DC… It has most, if not all the musical elements Whitesnake has come to represent… rock, soul… blues… ballads… a twinkle in the eye & a nudge in the ribs… a punch on the nose… & humour, of course… mustn't forget having fun…
It's quite the buffet… a little taste of before, during & now… Coupled with some new, inspiring new blood… Mr Tichy & Mr Devin… a pair of snake charmers for sure… Very nice & very, very talented… They have most certainly added welcome layers…
It's interesting that, as in nature, the Snake has to shed its skin every so often to start a new chapter of its life & shine perhaps a little brighter than before…
BT… I am proud to be a part of the history of Whitesnake, especially by drumming on a new record! But it's even cooler than that because the record smokes! And grooves! And rocks! And rolls! It's got everything one would want from a Whitesnake record and to be allowed the freedom to set up and tune my drums how I want as well as add some rhythmic spice to what was already rocking in its demo stage, is truly something I will always enjoy looking back on! With that said, it's all about getting your own copy to crank at your own will!
RB… I think one factor in the different sound of this record is that everyone sings! Tichy and Michael have super strong voices, and this is my first time doing backgrounds on a Whitesnake record. There are certain songs where I can really hear my voice, like in the title track. How cool is it to hear your voice with David Coverdale!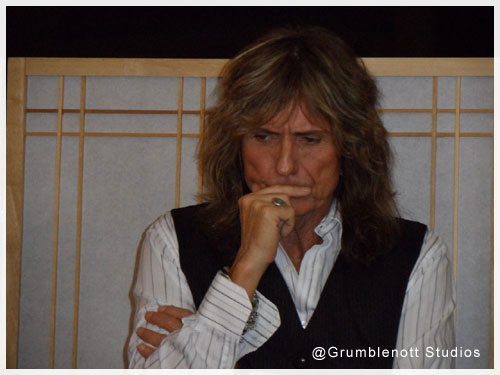 DA… It's lots of flavors. It's a very complete set of songs. There is something for all the generations of Whitesnake fans. And as GTBB was, it's really deep lyrically.
David sings like a man on a mission. He is still hungry to push the envelope. How cool is that?
Reb played and sang amazing. Devin is the complete package, he has it all, and Tichy, he just rules on the record. I'm very happy with it.
MD… Forevermore is a jam-packed rock album, we've got the barn-burners, the boot-stompers, ass-kickers, fist-raisers, and the tear-jerkers that generations of Whitesnake fans have come to love and appreciate. This one calls for a 21-gun salute, far as I'm concerned. DC sings and swings like a prize-fighter on Forevermore… and the title says it all.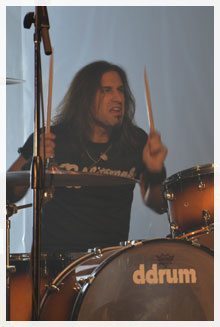 Q… Was the success of the highly acclaimed "Good To Be Bad" the key driver behind the decision to return to the Studio to record FOREVERMORE?
DC… No, actually… I was planning to take a year off to take care of what we called 'back burner' projects while I still had time… It was the inspiration of several interested companies approaching us, rather than us knocking on doors… The most compelling & passionate, by far, was the Italian company, Frontiers… They were ready to go the extra mile…
They have been an exemplary company to work with so far… Their seemingly boundless energy & enthusiasm has been a delight… They showed us the respect of letting us get on with it…& as you can hear… we did deliver…
When Doug & I first sat down to see what we each had to put in the pot, it was obvious that it was absolutely appropriate for all the right reasons to make another Snake album…
We both had exciting, juicy, potent & inspirational ideas from the first moment…
The Whitesnake Muse was upon us & stayed with us throughout…
Q… Following the release of the first single, 'LOVE WILL SET YOU FREE', there have been countless comments regarding the fact that your voice sounds better than ever. A sign of your contentment with life?
DC… Yes… & how nice of you to notice… It really is the support of our fans… their belief in me & the band…
The influence of my writing partner Doug… my incredibly talented colleagues, my Missus, of course… & my Spirit for Whitesnake remains focused, motivated & powerful…
For whatever reason I continue to be driven to go for it on every level… I just cannot vocally, or creatively 'cruise'…
Onwards & Forwards is one of my personal mottos…
I truly appreciate I can still 'do it'… & I thank God on a daily basis for this blessing…
BT… I just wanted to add to that because DC is one of the cats; one of the truly classic singers of rock that when he opens up his mouth and delivers the goods, it is instantly identifiable. I think that is one of the best gifts one can have to take advantage of….
The human voice touches more people than anything on this planet. DC has once again risen up to levels very few can even think of achieving… and he does it so effortlessly!
DA… David put his trademark stamp on this record, that's for sure. Can't wait for people to hear all the stuff he did.
MD… I was there. I sang in the vocal booth, right next to the man, he guided me through some parts, and I tell you his pipes are still steamin' and screamin' LOUD. I was witness to DC's vocal power, it's fierce. He is undeniably one of Rock's Greatest Singers and he proves it, time and again.
Q… Were the majority of songs featured on FOREVERMORE well "progressed", prior to entering the studio…or did things evolve / were new songs born, during the recording process?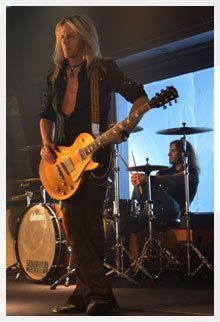 DC… Doug, Mikey & I work somewhat differently from the way it used to be in them there olde fashioned far off days…
Doug & I get together & play each other ideas & if anything catches fire we immediately start structuring the songs using the ProTools digital platform & we start layering…
It's always an exciting time…
Our demos are actually very complete… We should put them out there one of these days… People would be surprised…
Throughout the project we are always open to change, or anything we feel can improve & we are in absolute agreement that until we sign off at the end of the mix NOTHING is final!
We feel it necessary to remain faithful to the ever widening musical identity of the band as we see it at this time in its life…
If we have an idea that doesn't 'feel' Snake-like it usually goes out the window… but, to be honest, we are so 'telepathic' now in our shared vision, it is unusual for that to happen…
BT… DC and Doug are so focused, I just jumped in the game with them and went for the ride! My job was to make it groove, and play tasty…. they know what they are doing and what they want…. so, I think by playing it smart and listening to them was the most sensible thing I could do. It's rock and roll, so make it rock… and roll….
DA…. The recording technology has progressed so much. It definitely helps capture musical ideas while they are fresh. For example, we record riffs and melodies as well as drum grooves on our phones so as not to lose the initial spark of the song. Another time David was just jamming to a backing track that we had demoed. It was really a cool vocal idea. But we didn't record it. Fortunately there was a camera running, so we imported the audio from the camera and put it in the demo so as not to forget the cool nuances that made it special.
Back in the classical days, they had to write ideas down on paper. That takes a long time.
Q… You posted regular updates on Whitesnake.com, throughout the recording of FOREVERMORE and your enthusiasm was truly inspiring. How important was the decision to record at "Grumblenott", to the development of FOREVERMORE?
DC… Both 'The Reptile House' & 'Grumblenott' are houses I rented close to my home at Lake Tahoe…They are not actual 'studios' in the traditional sense…
I do like residential studios… Similar to the Sixties when bands like Traffic would all move into a cottage & stick some studio equipment in the barn, or wherever… It works for us…
We did that in Purple at times & early Snake albums… It's less stressful & much more economic…'Tis a sensible approach, methinks…
The only time we went into an actual recording studio was to record Briian's drums… That is the only aspect of domestic recording I am not confident with… Everything else is a breeze to deal with…
BT… It's amazing what can be done in a "home studio" as long as you have good ears and decent gear. I think the comfort of making records with this approach relaxes all involved and better performances are achieved. With that said, we did do the drums in a proper studio, but, we went in well prepared with a clear idea of what we were going to get done. Preparation is also a huge ingredient to getting results everyone is happy with. Because of the chill atmosphere they created to make the record, DC and Doug were well prepared when it was time to record my drums.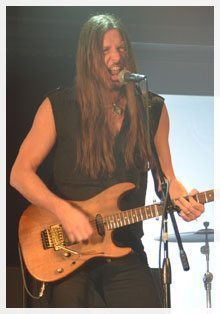 RB… This was my first time in beautiful Lake Tahoe. The vibe was spectacular. It doesn't get any better than an environment with beauty all around you like that to get the creative juices flowing. There were big windows everywhere, so you saw mountains while you were playing. In the down time we played pool and drank beer and watched football, so the whole thing was a bonding experience. I also had the big treat of seeing David's beautiful home on the lake, which I will never forget.
DA… Lake Tahoe is an amazing place to work and record. It's a small village as most people know, but everyone is private and keeps to themselves in the town so there are no big distractions. We worked long and hard but we were very well rested and focused. I couldn't think of a better place to record.
MD… Lake Tahoe… an idyllic place to cut a record, to bond as a band, to lay the bedrock. DC was firing on all cylinders and Doug Aldrich is just a burnin' player, a"rifficionado". He was so great and patient in the studio. He's the real deal. The time spent at Grumblenott playing bass, singin' harmonies, playin' some blues harp, playing pool, listening to the super sounds of the seventies, these moments will not be soon forgotten.
Q… FOREVERMORE features a new "Rhythm Section". A BIG welcome to Briian Tiiiiichy and Michael Devin. Has their creative input proved inspiring for the rest of the 'Snakes?
DC… Without a doubt… They are 'The Wrecking Crew'… I'm surprised Briian's drums survive the onslaught he puts them thro'… He truly is Thor's Hammer!
Michael is a doll… he's a lovely & articulate man in his philosophy & as a musician…
I can't wait to take the stage with them…
BT… Thanks DC! It means a lot when your boss throws down such kind words! DC and Whitesnake will get 100% from me live every night… and my 100% is a little more than a normal 100%! Haha! Michael "Denim" Devin is the kind of player that stands out without trying to. Other guys will be putting all their licks in and Denim will just dig in and get noticed. Maybe it's cuz he is so dang cool! HAHA…
RB… Somehow David always manages to find the best musicians in the country, who also have the best personalities. It's important that if you are going to be living on a bus with someone, that they are fun, interesting, and professional. There is nothing worse than a dork on the bus. I hit it off with Michael and Tichy right away. The really cool thing is that they have played together for years, and it's obvious when they play together. Sometimes it takes a few weeks of shows to get the bass player to sit right with the drummer, so this time I feel confident that it will be super tight right out of the gate.
DA… A hell yes from DA! Those guys both delivered stellar performances on the record. The thing that is gonna set them apart is that they are very tight personally as well as playing wise. They really are like brothers and it's pretty funny to be around when they are on a roll. But since they have a close bond, they really read each other on the spot musically and it really does inspire.
MD… Thank you very much. Mighty kind of you to say, DC. And how about that Tichy, he's very good. Like, thee best rock drummer in your current time zone. I like Tichy. He's a heck of a guy and a swell drummer. We're united in rock. And he's extra cool because DC refers to him as "The Tichmeister".
Q… The "Twin pronged" Guitar offer of "Aldrich & Beach" has worked VERY successfully for EIGHT years now. A key ingredient on FOREVERMORE?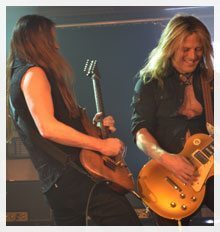 DC… Yes, absolutely… they are guitar slingers to die for… Better & better all the time…
I love that neither of them rests on their laurels… They are always in pursuit of excellence… It contributes significantly to the fact we still work together…
They keep their eye on the ball & their huge talent on display… They are most welcome in my life…
BT… Doug and Reb are sick! I can't wait to hear the sound we all create together live!
RB… Thanks DC. Yeah, Doug and I worked really closely on this one. He engineered my solos, and gave me great ideas. It was so nice to have an objective opinion from such a talented guitarist. I tend to be too self critical, and erase stuff that's good. There were times when Doug said "I'm not touching that", and times when he said " Try again". I had no clue most of the time. Also, on one track, we cut the solos live at the same time, switching back and forth. It was so cool that we captured the energy of two guitarists really playing off of each other.
MD… Reb "The Rebellious One" Beach is a very fine singer, on top of being an exceptional guitar player. I look forward to the wall of sound the two of them create together live.
Q… FOREVERMORE was produced by "Los Bros Brutalos", (Messrs Coverdale, Aldrich and McIntyre ). The mix seems to have captured, successfully, the "full on" intensity of a Whitesnake LIVE show. Was this a key aim for this release?
DC… Yes… & I feel the same, too…
It was always difficult for me to capture the energy, the essence throughout the different chapters of the band live when recording… I feel we have achieved that relatively recently…& I delight in it…
These guys are dangerous!
DA… That's interesting that you notice that. Right from go of recording, this record has a very fresh energetic feel. The tunes have a live vibe in some ways I guess, and then once Tichy started jamming them in rehearsal, they took on even more of that. David has a way to bring out the best in all the people around him. Like we are on the edge pushing.
MD… Did someone say LIVE? I can't wait for a LIVE show with this lineup. There ought to be a warning label on the concert ticket.
Q… Talking of Whitesnake 'Live', the release of FOREVERMORE will be supported by a World Tour. Did you always have "One eye on the stage", when composing the songs?
DC… Without question… it is always so…
The difficulty, but, a nice problem to have, is what the hell do we leave out?… We are blessed with an amazing arsenal of music drawing from over 30 years of the band's history…
There are times I feel that if this was a 'new' band, I would truly enjoy playing all songs from both 'Good To Be Bad' & 'Forevermore' albums in their entirety…
BT… This record, like all Whitesnake records, seems correct when thought of as a record of songs meant to be played live. (I just used the word "record" three times in one sentence, and it doesn't sound redundant, to me at least….haha…) With every track I'd finish recording, I'd find myself saying, "yeah, I think this one will be great live!"…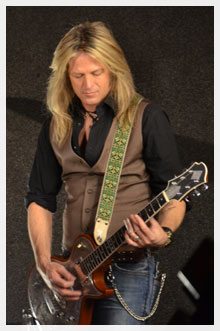 DA… The songs on Forevermore really will fit in nice, and the tunes have a similar common thread that has been running through all the Whitesnake records. Any of these new songs on Forevermore would work well live. I feel that with Whitesnake, you need to represent all the eras of the band when you are putting a set together. Without doubt, the set this year is going to be impressive.
Q… For the UK Market, there is a special release of FOREVERMORE, via "Classic Rock" magazine, with bonus material. In view of the sad demise of "High Street" music stores…do you see a healthy future for "Physical" release, via sort of "Joint Venture"…or is this purely an experiment?
DC… I feel hard rock fans, more than any other, favor having the actual, physical record in their hands… we shall see…
I love Classic Rock & the people who work there & those who read it… They have been immensely supportive to the reincarnated Snake…
I hold the awards we've received from them in pride of place in my home…
DA… Its such a awesome opportunity to have ClassicRock involved. They have, as you say been very supportive of David and Whitesnake. It'll be great to get the record as well as all the other multimedia stuff that comes with the Mag instead of just a download of this record.
Thanks to all the CR guys that worked on the package.
Q… Any plans to release more promotional videos in support of FOREVERMORE…possibly with some clips from "Grumblenott"?
DC… I have never, ever had so much available material, alternate mixes, different arrangements, unplugged versions of the songs, plus enough video footage for at least 2 more promo videos, plus behind the scenes footage…
We'll have enough to keep you all interested for quite some time, I hope…
DA… HAHA there were cameras in our faces from day one of the entire process! There is tons of stuff. Creative stuff but probably lots of funny stuff too. I really don't know what they will do with it.
Q… Any amusing anecdotes from the recording of FOREVERMORE? Any bears from the Sierra Nevadas stop by for a listen?
DC… Ah… the bears… I love 'em… A couple of minor incidents, but, fortunately nothing quite as distracting as when we were making 'Good To Be Bad'…
I pretty much kept everyone up to date on the website as it happened…
DA… Lotta funny moments come to mind… Some of the best times though, are the early days when we started writing. That's the stuff that I remember most. In the making of a record like this, it's do or die on the edge. I think working in Tahoe is a big part of the chemistry that is going on now. It's kinda still like the Wild West in Tahoe. When you see an old Western film and the guys are riding through mountains and deserts, that's how it feels to me driving up and back to Tahoe on a writing spree as David and I done a lot. Very inspiring. You never know for sure what is around the next bend, but it will definitely be something to remember.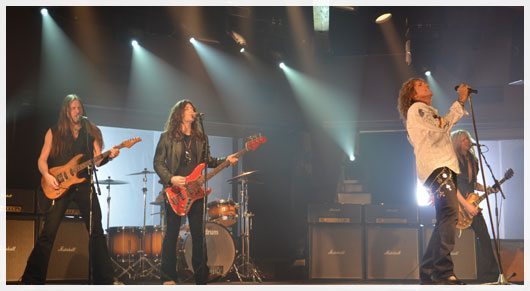 Q… Good luck from ALL at Whitesnake.com for a fantastic 2011 and best wishes for the Global success of FOREVERMORE.
DC… Very much appreciated… Thank you… see you All soon…
BT… Thanks… hope to see you all somewhere on the road!
DA… Thank you so much.
MD… I look forward to the road ahead with my brothers in arms, DC, Doug, Reb, and Tichy.