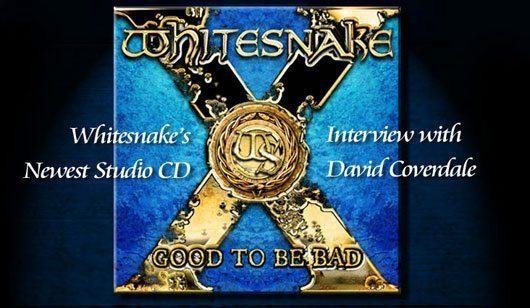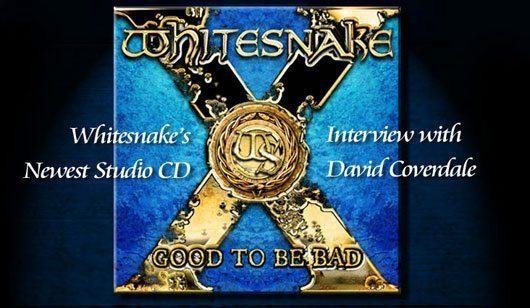 1.) Ten years between RESTLESS HEART and GOOD TO BE BAD: What has changed in Whitesnake and what is still the same?
DC…Well…I feel 'Restless Heart' was more like a Coverdale solo album, which is how it started, 'til EMI told me they wanted it to be a Whitesnake record…so, we had to juggle it around to try & 'Snake it up…whereas 'Good To Be Bad' is most definitely a Whitesnake record from beginning to end… For me, the heart & soul of Whitesnake remains the same…How could it not ? It is, & has always been, very precious to me… It helps provide my Family & I with an incredibly good life…I respect & treasure it, & I will protect it as much as I can from harm…& I embrace & relish the rewards it brings… As a musical vehicle it helps me express myself, & hopefully, it's the same for the musicians who work under it's creative umbrella… It's also an anti-aging youth serum for me!
2.) How important were the incredibly successful tours during the last 3 years for your motivation to write a new album?
DC…Very, very important… The musicians I'm working with & the positive response from the people who come to see us, & support us, has inspired & motivated me to get back in the saddle & to write & record new songs for the first time in many years…I've also found a new, inspiring writing partner in Mr Aldrich…
I'd allowed myself to be brought down, but, fortunately only for a short time, by the negative climate in the music business, but, now I feel it's more the major record companies energy, rather than the music business, that is creating a great deal of the damage… Their reluctance to move forward & embrace new approaches to business is definitely creating a lot of their own problems…they just seem unable to see it… I thought, perhaps, all the magic had gone, but, I was wrong, & I'm very happy to discover live music is still very much supported by the hard-core fans…& yes…people are still buying records…perhaps not in the millions that we became familiar with…but, nevertheless, the hard-core rock fan still wants to hold the substance of an album in his, or her hands, as opposed to simply downloading it… You have to rethink how you structure your career today & not take things for granted…You have to roll with the punches & keep an eye on everything…Not over-indulge…It is not how it used to be… But, still…it's amazing, when I think about it…Whitesnake celebrates it's 30th Anniversary this year & is still going strong…It still has juice… I am so grateful that I can still actively work as a musician, create new music & then go on tour with a great band & play to appreciative crowds… As long as people accept that we don't look the same as we did 20 years ago…but, we can still play our music with fire & passion, then I think we can stick around for another few years! I'm also very grateful to be involved with the record company, SPV…I work with a great, positive, supportive team there…Good, solid people…
3.) How did you write the material? How important was Doug Aldrich for you as a songwriter, musician and friend?
DC…Personally, I'm always writing bits & pieces here & there, for future reference…making cassettes of ideas…It's very natural for me to compose… I meditate before I start working & I find that helps me immensely…It helps bring out the creative spirit, I think…It helps me focus… Doug & I found it very natural to write together from the beginning…Relatively effortless & fun…It's a 50/50 collaboration… He is a very gifted individual…& very enthusiastic…he also helped engineer & mix the record, so he was involved from the very beginning of the project to the end…That is something that has never happened before… Doug's a welcome breath of fresh air for me…He doesn't bring any excess baggage…No questionable agenda…& no unnecessary ego to stroke…he just gets on with it… He's very caring & passionate about what he does, & thank goodness, the passion includes Whitesnake… He was exposed to Whitesnake before we met, or worked together, so, he was familiar with the approach & the creative identities I'd established, but, he brings such an incredible energy & urgency to Whitesnake that it helps stretch the boundaries much further, without compromising the original attitude… He's an electrifying guitarist, as anyone who has seen him can testify…Very inspiring to me… The other bonus, of course, is that we've developed a strong, supportive personal friendship…
4.) Would you say that GOOD TO BE BAD is a mixture between your blues roots and a modern attitude? Any other influences?
DC…For me it has all the elements, all the ingredients that I enjoy about Whitesnake…It's a very solid, muscular, melodic rock record with a couple of fine ballads, so, there's a little tenderness when the moment calls for it…& of course the ballads help balance out the chest beaters! I find it a very complete piece of work, actually…It covers a lot of musical ground…A positive chapter in the Book Of Whitesnake… I'm able to sing from a whisper to a scream, with all points in between, very comfortably with the new material… We also tried some new musical keys for me to sing in…which made it very fresh, interesting & fun… When Doug & I sat down to jam on each others song ideas the structure of the album was evident pretty much immediately…it came together very naturally… There was never a danger of compromising the acknowledged identity of Whitesnake for the sake of trying to be modern…or fashionable… I'd say if there was any influence it would be all the previous elements that have come together to make what is Whitesnake, coupled with the very welcome fresh injection from Doug , Chris, Timothy, Uriah & Reb… Chris Frazier has brought a very Paicey feel back to the band…He swings, grooves, rocks & rolls…A very pleasing foundation to bulid from…Whitesnake's got it's groove back! As a band, these guys know how to tell the Whitesnake story very well indeed…
5.) Please comment on producer Michael McIntyre. What was his role, and in which way did he help the album?
DC…Michael has been with me since 1987… He was originally a member of the WS crew…Then when I moved to Lake Tahoe, I found out he lived close by in Reno, so, I asked him to come & work with me as a personal assistant… He has proved so indescribably valuable to me that he has been actively involved in Whitesnake's management for many years…He oversees all aspects of my personal & business life… Not only that, but, he's a fantastic recording engineer & has been involved in the recording of all of my albums since 'Slip Of The Tongue'… We are great friends…More like brothers…I trust him with my life, so, when he's recording my voice I have total confidence in his judgement…
6.)The album was originally announced for autumn 2007. Any reasons for the delay?
DC…The recording of this album was constantly compromised by interruptions…however, it's a testament to Doug, Mikey & I, also known as The Brutal Brothers, that we kept moving forward… "Onwards & Forwards", was the motto for this project… Also, to be honest, there was no real rush for us to finish the project quickly… I'd planned to take the year off from touring to avoid too much pressure in making the record, so, whenever there were problems, we'd take a break…a little breathing space…It works wonders for fresh perspective… Also, for me, personally, it is most important I balance my working time with my family time…It isn't always easy…even when you're recording at home! The most important thing is…was it all worth it?…& I can sincerely answer…YES…it most certainly was worth all the trials & tribulations to get to this place & simply enjoy the fruits of our labours… It's a fun album…Great to drive to!
7.) What kind of audience do you expect for GOOD TO BE BAD? Metal kids? Rock fans? Blues maniacs? Or perhaps younger people?
DC…Everybody's welcome to try a bite of this pie…There's something here for everyone…
8.) Please comment on the tour with Def Leppard in one or two sentences. The perfect choice for a co-headlining tour…
DC…3 hours of good, strong. melodic songs!…What more could you want? Joe Elliott , the Lepps & I have been friends & supporters for many years…It was only logical we'd end up touring together someday… I'd like to be in the audience for the shows we're doing together…I feel it will definately be an event to experience…"Let's Get Rocked In The Still Of The Night…"…YEAH, BABY!!!
9.) Last question: What can we expect of Whitesnake live in 2008?
DC…We will be celebrating the 30th anniversary of Whitesnake with kick arse live shows…a new show, featuring songs from a new studio album…By the way, this is the 10th studio album from Whitesnake… There will be much fun to be had by all…Don't miss out on the party!
Interviewed by Matthias Mineur