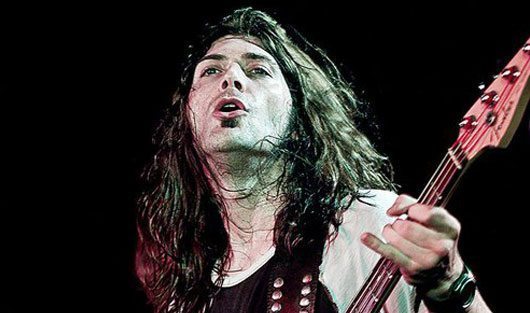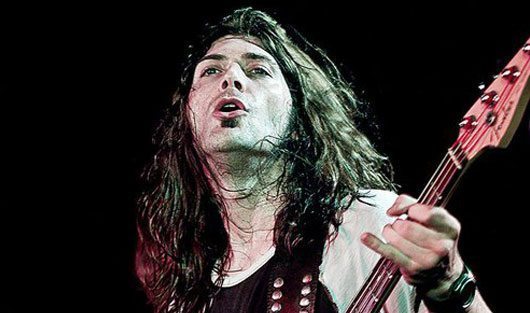 "I'm looking forward to rocking the believers and converting the non-believers in the church of Whitesnake. Come to church, fellow 'Snakers, it's good for your soul! "
1. Welcome to Whitesnake, Michael! Your name will probably not be familiar to most Whitesnake fans. Please tell us a little more about yourself.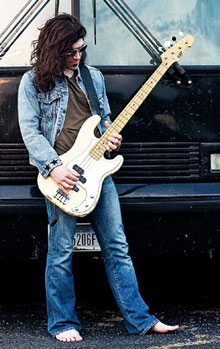 MD… Thank you! It's an honor to be welcomed into the Whitesnake family. I'm a big fan. Whitesnake is notorious for exciting musicianship, David's history is rich, and I'm very proud to be here. I'm from New England, from a factory town, where hard rock dominates the radio. There I absorbed Zeppelin, Sabbath, Purple, AC/DC, Floyd. I got my hands on a bass at age 12. I haven't stopped exploring the bass since. I picked up some piano and other instruments along the way, singing too. I've toured/recorded with lots of musicians, but my favorites have been Kenny Wayne Shepherd and Lynch Mob. Kenny's a genuine bluesman. Lynch is a genuine madman.
2. Tell us about your path to joining Whitesnake. How did you find out that YOU had been chosen?
MD… I had to swim the mote, slay the dragon, scale the tower, and then appeared handsome and witty as ever, David Coverdale. DC, Doug Aldrich, Tichy and myself got together and listened to the new material, I put down some bass ideas, sang a little, nervously I might add, as David was standing next to me, singing the parts to me! Talk about pressure. But he's a great source of encouragement; everybody in this band is, it was an afternoon I'll never forget. A few days later, DC phoned while I was on the road. I was in Seattle when he called to give me the good news. I was floored. Still am floored. This band is going to sound very massive, I do believe!
3. Who are your Musical influences?
MD… James Jamerson, John Paul Jones, Geezer Butler, John Entwistle, Geddy Lee, Willie Dixon. I'm a rocker to the core. I like the classics.
4. Whitesnake recently appointed Briiiiiian Tiiiiiiichy? Have you worked with Briiiian previously? What can we expect from the new 'Snakes Rhythm Section?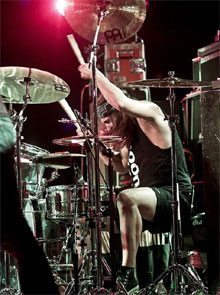 MD… Who? Brian Tichy the speed bagger? Yeah, we work together quite a bit, actually. We've been playing together, on and off, since 2002, when I joined his band, BALL. We happen to be good friends, too. He's a good kind of crazy, he'd probably say the same about me, and I love playing with him. I learn from him. He's the best rock drummer in the West, hands down the best. What to expect? Sheer madness! Most recently we were the rhythm section for Lynch Mob and we brought the thunder to every concert, so I expect nothing less than authentic rock fury. We create it when we come together on bass and drums. We're a team and we're brothers. It's authentic. The temperature is going to rise a few degrees in the world of Whitesnake!
5. Do you recall your first awareness of Whitesnake? Do you have a favourite WS Album/Song?
MD… Sure I do. My sisters Kristen and Kelly went to see Whitesnake in 1988. They were supporting the 1987 album. I wasn't invited, being the kid brother. They returned with T-shirts. I nicked one and wore it for years, 'til it faded. I knew of another album before the 1987 album, it was a dangerous record to have, being in Catholic school at the time. It was Slide it In. The cover alone was enough to have me sent home. Slow An' Easy was the most exciting song! That voice! The riffage! Awesome. I have many favorite 'Snake songs. Lately I've been digging on "Ain't No Love in the Heart of the City" and "Ready An' Willing". Coverdale rules. Period.
6. Tell us a little about the "Hardware" you will be using during recording and live shows?
MD… I'm a traditionalist, I like tubes, so it's Ampeg and Fender all the way for the recording. Live shows most likely the same, although I enjoy playing the ESP Vintage bass series. I use Rotosound strings and Red Monkey straps.
7. Will you also sing with Whitesnake?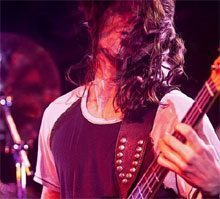 MD… Yes! And I am psyched to be able to sing alongside Maestro Coverdale, as well as the other singers in the band. David is one-of-a-kind, powerful, bluesy and soulful. He's Coverdale! I love to sing, so it's a dream come true.
8. Whitesnake are presently writing and recording a new CD for release, next year. Tell us a little about your involvement in it's creative process.
MD… My involvement is in providing the grooviest, slinkiest, punch-in-the-gut bass lines I can pull out of myself and get down on record. I'm singin' my heart out too! I can play some banjo, piano and blues harp, though I don't think the new album needs any banjo.
9. It is expected that Whitesnake will embark on a major World tour, during 2011. What aspects of this are you most looking forward to?
MD… I'm looking forward to rocking the believers and converting the non-believers in the church of Whitesnake. Come to church, fellow 'Snakers, it's good for your soul! Doug Aldrich is a fierce player and writer, a man on fire, so I'm looking forward to sharing the stage with him. Also, I hope we get over to Italy. Sono Italiano-Americano, so it's very dear to my heart.
10. What hobbies/interests do you have outside of Music?
MD… I write a lot, I like to draw, like to read. I follow soccer. Honestly, I don't have many interests outside of music!