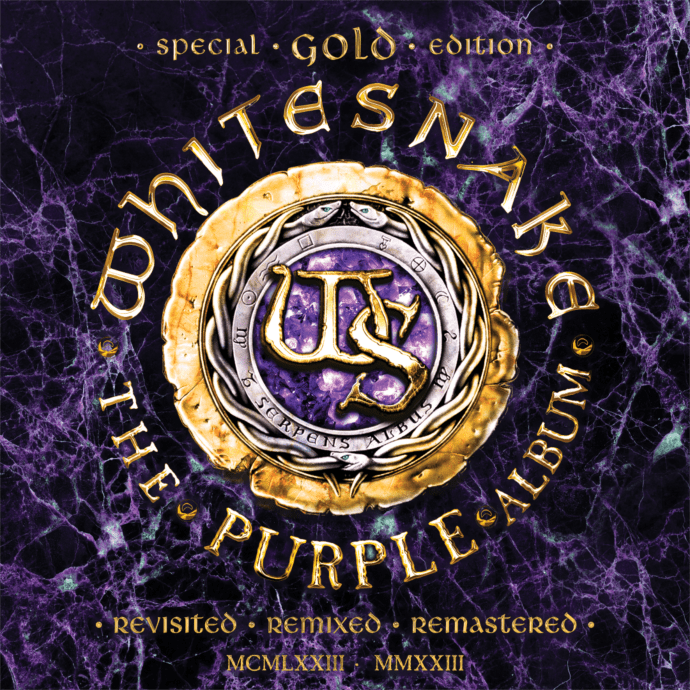 David Coverdale Celebrates 50th Anniversary Of His Deep Purple Debut
2-CD/Blu-ray Set Arriving October 13 Features Unreleased Music, Including The 1972 Demo That Earned Coverdale's Place In Deep Purple
2-LP Gold-Vinyl Version Of The Newly Remixed And Remastered Album Available Now
LOS ANGELES – David Coverdale was a relatively unknown 21-year-old singer-songwriter when he joined Deep Purple in 1973. He went on to record three classic albums alongside the Rock and Roll Hall of Famers before embarking on his musical journey a few years later with his band, Whitesnake.
Coverdale is celebrating the 50th anniversary of his Deep Purple debut this year with a special version of The Purple Album, Whitesnake's tribute to his three-year tenure with the legendary group. This newly remixed, remastered, and expanded edition of the 2015 album features previously unreleased recordings, including the very demo that secured Coverdale's spot with Deep Purple.
THE PURPLE ALBUM: SPECIAL GOLD EDITION arrives on October 13 as a 2-CD/Blu-ray set and a 2-LP set on resplendent gold vinyl. Pre-order both versions HERE. The new remix of "Burn" is available today digitally. Listen HERE.
Coverdale recorded The Purple Album with guitarist Reb Beach, bassist Michael Devin, guitarist Joel Hoekstra (on his first Whitesnake album), and drummer Tommy Aldridge, reappearing on a Whitesnake studio album for the first time since 1989's Slip Of The Tongue. The band cherry-picked gems from Burn (1974), Stormbringer (1974), and Come Taste The Band (1975), delivering inspired takes on fan favorites like "Lay Down Stay Down," "Lady Double Dealer," and "You Keep On Moving."
The 2-CD/Blu-ray version of THE PURPLE ALBUM: SPECIAL GOLD EDITION goes beyond the original with the addition of live recordings and concert videos from The Purple Tour ("The Gypsy," "Mistreated"), official music videos ("Sail Away," "You Fool No One"), and an assortment of previously unreleased material, including six alternate mixes of album tracks. The Blu-ray also offers a behind-the-scenes look at the album's making and a song-by-song commentary by Coverdale.
An exciting addition to the upcoming collection is the four-song demo Coverdale submitted to Deep Purple, hoping to become the band's next singer. Recorded in 1972 with his former band, The Fabulosa Brothers, the reel-to-reel tape was extensively restored after Coverdale stumbled upon it among his late mother's belongings. In the album's liner notes, Coverdale says: "I had no idea my Mam had the tape…For me, to open my Mam's trunk of personal items, 30 years after her passing, was a gift from Heaven." The collection also features several demos Coverdale recorded while working on songs for Deep Purple's 1974 album Stormbringer. 
THE PURPLE ALBUM: SPECIAL GOLD EDITION
2-CD/Blu-ray Track Listing
CD One: 2023 Remix
"Burn"
"Lay Down, Stay Down"
"Love Child"
"Holy Man"
"The Gypsy"
"Lady Double Dealer"
"Might Just Take Your Life"
"Mistreated"
"Stormbringer"
"Sail Away" (Interpolating "Elegy For Jon")
"You Keep On Moving" – featuring the Hook City Strings
"Lady Luck"
"Coming Home"
"You Fool No One" (Interpolating "Itchy Fingers") Dedicated in loving memory to Jeff Beck
"Soldier Of Fortune"
CD Two
The Purple Tour Five Live
"Burn"
"The Gypsy"
"Mistreated"
"You Fool No One"
"Soldier Of Fortune"
Alternative Mixes
"Holy Man" (Unzipped) *
"Stormbringer" (Punch In The Nuts Mix) *
"Love Child" (Alternate Mix) *
"Soldier Of Fortune" – featuring Joel Hoekstra & The Hook City Strings *
"Soldier Of Fortune" – featuring The Hook City Strings *
"Soldier Of Fortune" (Instrumental) – featuring The Hook City Strings *
The 1972 DC Purple Audition Tape Featuring The Fabulosa Brothers
"Everybody's Talkin'" *
"Get Ready" *
"Lonely Town, Lonely Street" *
"Dancing In The Street" *
1974 DC Demo Ideas For The Stormbringer Album *
Blu-ray
Purple Music Videos
"Lady Double Dealer"
"Stormbringer"
"Sail Away"
"Soldier Of Fortune"
"The Gypsy"
"Soldier Of Fortune" – featuring Joel Hoekstra & The Hook City Strings*
"Soldier Of Fortune" – featuring The Hook City Strings*
Purplesnake Videos
"Lay Down, Stay Down"*
"Holy Man"*
"You Keep On Moving"*
"You Fool No One"*
Live Clips
"Burn" – Live "Atlantis" Video
"Burn/Stormbringer" – Live In The Still Of The Night
"Soldier Of Fortune" – Starkers In Tokyo
The Purple Tour Five Live
"Burn"
"The Gypsy"
"Mistreated"
"You Fool No One"
"Soldier Of Fortune"
The Purple Album: Behind The Scenes*
The Purple Album: Song-By-Song*
* Previously Unreleased
THE PURPLE ALBUM: SPECIAL GOLD EDITION
2-LP Track Listing
LP One
Side One
"Burn"
"Lay Down, Stay Down"
"Love Child"
"Holy Man"
Side Two
"The Gypsy"
"Lady Double Dealer"
"Might Just Take Your Life"
"Coming Home"
LP Two
Side One
"Stormbringer"
"Sail Away" (Interpolating "Elegy For Jon")
"You Keep On Moving"
"Lady Luck"
Side Two
"Mistreated"
"You Fool No One" (Interpolating "Itchy Fingers") Dedicated in loving memory to Jeff Beck
"Soldier Of Fortune"