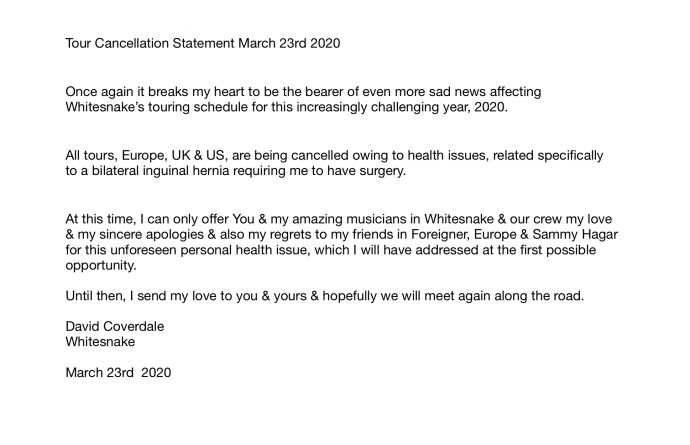 Once again it breaks my heart to be the bearer of even more sad news affecting Whitesnake's touring schedule for this increasingly challenging year, 2020.
All tours, Europe, UK & US, are being cancelled owing to health issues, related specifically to a bilateral inguinal hernia requiring me to have surgery.
At this time, I can only offer You & my amazing musicians in Whitesnake & our crew my love & my sincere apologies & also my regrets to my friends in Foreigner, Europe & Sammy Hagar for this unforeseen personal health issue, which I will have addressed at the first possible opportunity.
Until then, I send my love to you & yours & hopefully we will meet again along the road.
David Coverdale
Whitesnake
March 23rd 2020
Live Nation UK refunds note: "Given the extraordinary circumstances, our refund process is taking slightly longer than usual. You don't need to do anything; please rest assured we are working through these as quickly as possible and will issue a refund for your tickets onto the credit card you used to buy your tickets. We will be back in touch again to let you know when this has been done and can only apologise for the delay."